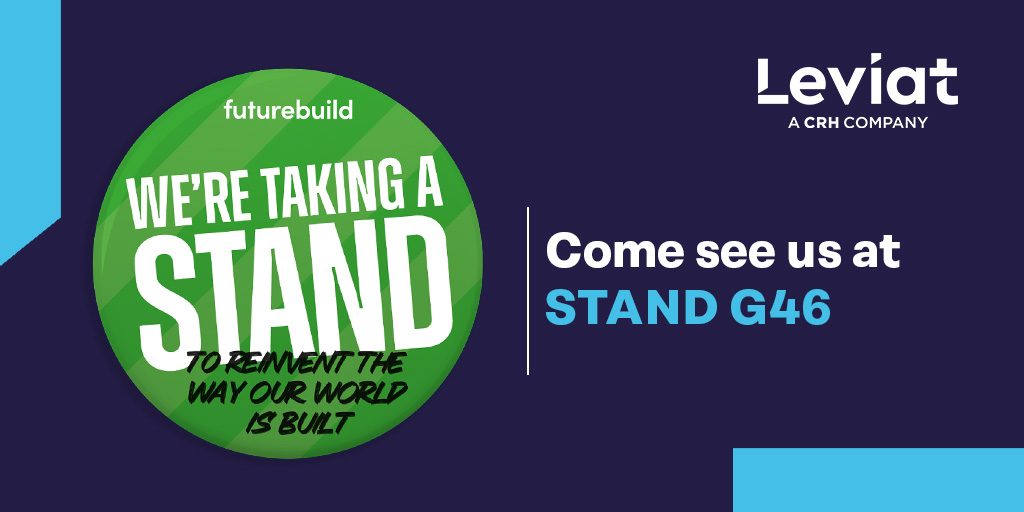 Materials, products and services define how our world is built and is why Leviat is gearing up to sponsor and showcase an incredible line-up of innovative solutions from its world leading range of connecting, fixing and anchoring products at Futurebuild 2023.
Held at ExCeL London from March 7 – 9, Futurebuild is an open invitation to a better built environment and is the place to see innovation first hand. A Futurebuild Innovation Partner, Leviat will be part of the renowned Innovation Trail and is looking forward to demonstrating an incredible line-up of products including the Ancon Thermal Windpost and the newest addition for post tensioning applications, Halfen HIT Structural Thermal Breaks.
Through its core offering of construction products that improve the thermal and acoustic performance of buildings, Leviat has already helped deliver some of the most energy efficient structures in the world, reflected in building rating schemes such as BREEAM, LEED and PassivHaus.
CRH recently announced that it has raised its industry-leading decarbonisation amibition even further. CRH has revised its target to reduce Group-wide carbon emissions by 30% by 2030, supporting their longer term ambition of becoming net-zero by 2050. This target, covering all activities across the Group, has been validated by the Science Based Targets Initiative (SBTi), in line with the new framework to limit global warming to 1.5°C.
Leviat's Rune Magnusson, Managing Director, Europe West & APAC commented: "We are looking forward to partnering and participating in Futurebuild 2023, which continues to offer huge potential for Leviat to further develop business opportunities and build new relationships across the construction industry. We are at the forefront of a changing construction market, with Futurebuild being the industry event to put the spotlight on innovative and inspiring products that will help us achieve a net zero future. It's therefore a great opportunity for us to showcase our specialist engineered solutions which are leading the way in the growing demand from the industry for more sustainable products."
Jess Marsh, Leviat's Environmental and Sustainability Engineer, and Leviat's technical engineers will be on stand G46 and look forward to discussing how the company's innovative engineered solutions can play a vital role in a building's (and the planet's) sustainable future.
Leviat rethink, reimagine and reinvent solutions for the built environment to make homes, buildings and infrastructure that can stand the test of time. Its solutions are creating smart sustainable cities fit for the future. Leviat is also redesigning its processes to support the transition from a linear economy to a more sustainable circular economy.
Expected to attract more than 15,000 professionals from across the entire supply chain including architects, housebuilders, developers, consultants, contractors and manufacturers, Futurebuild will provide the ideal opportunity for Leviat to demonstrate its brands' industry-leading products which are synonymous with superior technology, product quality and customer satisfaction.
Visit Leviat at Stand G46 to find out more.
Futurebuild 2023 will take place from March 7th to March 9th London's ExCeL. For more details, visit www.futurebuild.co.uk. Visitor registration is now open.