---
Here we showcase how our Isedio floor jointing solutions have been used to simplify casting of industrial concrete floors, on projects around the world.
Please check back for regular updates to this page.
Industrial Turntable, Spa Park, Leamington Spa
Leviat solves unique circular concrete problem with one-off bespoke Isedio armoured edge protection solution.
Faced with the need to provide edge protection around an unusual precast circular concrete pit in the middle of a huge cast concrete industrial floor, Leviat's floor joint systems technical team developed a unique bespoke Armourstrip product that provides high strength and tolerances when applied to a curved surface.
Designed to house a heavy duty industrial vehicle turntable, the precast pit, almost 6-metres in diameter, was sunk to floor level ready to be jointed to the main cast concrete floor. To prevent impact damage to the joint by vehicles entering and leaving the turntable, heavy duty edge protection was essential.
A bespoke solution was the only answer
In the absence of a standard armoured joint to protect the edges of the pit, Stanford Industrial Concrete Flooring Ltd, who were responsible for laying the high quality, high tolerance concrete floor throughout the warehouse building, called in industrial floor jointing specialist, Leviat, to discuss a solution.
Working closely with Stanford, Leviat's designers used the site engineers' drawings to develop a one-off high strength edge protection system that could be applied to the curved surface to meet all of the customer's quality and performance specifications.
Designed for quick and easy onsite installation
Designed as a full ring to ensure perfect fit to the pre-casted pit, which was already on site, the joint was installed by Stanford, who curved the semi-flexible metal component to fit perfectly to a series of timber sections, drilled and fixed to the upper lip of the precast pit. With the joint secured in position, the surrounding floor was then fully cast to provide seamless 360-degree access to the turntable.
Both Stanford and their customer were delighted with the finished solution.
"By working together and thinking outside the box, Leviat and Stanford were able to come up with a solution that met all of the customer's needs, and was quick and easy to install", said Stanford Construction Director, Kevin Lloyd. "The one-off design was custom-made for the job, which helped us with delivery lead times and made installation on site quicker and easier".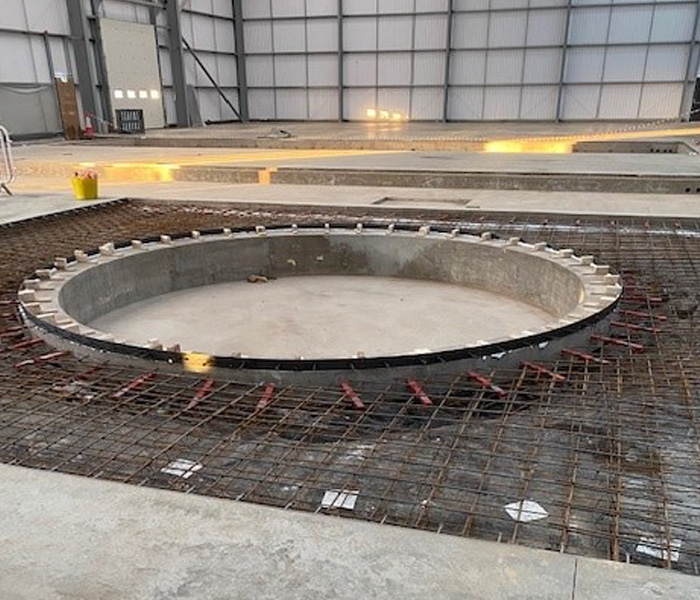 Aptiv Connection Systems
Leviat's Isedio ShieldJoint Arris Repair has helped Aptiv Connection Systems to create a seamless transition between old and new in its Moroccan production plant.
Growing demand for the company's advanced automotive technology systems meant Aptiv Connection Systems needed to extend its state-of-the art production plant in Morocco to create additional floor space.
Traffic needed to move seamlessly between new and old
The challenge for Bouygues Moroccan subsidiary, Bymaro, main contractors for the new extension, was to create a strong and permanent flat joint between the new and existing floor to enable traffic to move between the two areas without compromising the interface slab edges.
Following technical discussions with Leviat's local Representative, the Isedio ShieldJoint Arris Repair solution was chosen to join the two floor areas. Widely used to repair shrinking or damaged joints in industrial concrete floors, ShieldJoint was easily adapted to provide a quick and cost-effective, seamless joint that would remain debris-free and would not be damaged by the constant heavy traffic flow.
Built-in adjustment made alignment simple
130 metres of the Arris Repair system was subsequently positioned within a new channel, sawn out of the concrete floor close to the original margin. After adjusting the height to ensure perfect alignment with the existing floor level, the void either side of the joint was filled with a mortar compound.
Unique design provided added benefits
The unique design of the lower third plate and metal top plate removed the need for chemical sealants, whilst preventing debris contamination of the finished joint in use. It also allowed for up to 25mm expansion to accommodate drying shrinkage in the concrete floor sections.
Leviat's extensive experience in jointing and repairing all types of industrial and commercial cast-in-situ concrete floors meant they were able to provide technical support throughout the selection and installation process. This ensured that Bymaro were able to carry out the installation quickly and effectively, providing a long-term solution that will enable Aptiv to operate the busy expanded warehouse without further cost or downtime for repeated maintenance.
Woolworths Distribution Centre, Heathwood, QLD
Bespoke Isedio ShieldJoint comes out top for performance, availability and value for money at Woolworth's new, super-cool distribution centre.
The new 42,000m² temperature-controlled distribution centre for Australia's biggest supermarket chain will provide fresher, faster, and more efficient deliveries of around 4000 frozen and chilled product lines to over 260 stores across Queensland and Northern New South Wales.
---
The Challenge
To optimise the performance of the highly insulated steel frame building, the concrete floor slab was made up of several layers, requiring the jointing solution to be installed on top of dual layered, low and high-density foam insulation. To accommodate the initial shrinkage, and further shrinkage from the temperature draw down, the original design drawings incorporated a plate armour joint which was no longer available.
To add to the challenge, head contractor, Vaughan Constructions, and concrete specialist, Kraftur, wished to minimise the number of joints and improve construction efficiency by increasing individual pour sizes, which would further increase the joint openings.
The contractors were therefore required to work with a joint opening of 35mm, which limited the number of options available.
The Solution
Following a review of all available jointing products on the market capable of meeting the design requirements, Kraftur, in conjunction with floor consultants, FACE, settled on three final possibilities, including Isedio ShieldJoint, the innovative, leave-in-place, zero-impact, sealant-free joint system.
To ensure that the joints could be warranted as 'fit for purpose', in line with Kraftur's contract conditions, the three options were then subjected to a detailed 12-point investigation, which included comparison of key criteria, such as ease of installation, sufficient anchoring, joint capacity, smooth joint transition and bending and shear capacity.
Whilst there were minor differences in performance, the decision was taken to go with Isedio ShieldJoint, which, being the only option actually made in Australia, carried a shorter lead time and lower risk of supply chain disruption.
Kraftur subsequently installed a total of 1170 linear metres of Isedio ShieldJoint to protect the joints in the freezer wearing slab layer.
Kraftur Project Manager, Murray Burgess, said
"We were really happy with the overall service provided by Leviat on the Woolworths Heathwood project. Leviat offer great products and after sales support. It was fantastic to have someone come to site and engage with our team while we were installing the joints. The Leviat representative took the time to offer solutions and listen to our ideas."
---
GPT Industrial Development – Glendenning, NSW, Australia
Isedio ArmourJoint and Connolly Expansion Joint Solutions from Leviat, have been chosen to ensure high-performance internal and external floor surfaces for GPT's latest warehouse development in Glendenning, NSW, Australia. The latest addition to GPT Group's expanding logistics portfolio, the new warehouse at Glendenning is located close to the M7 Sydney orbital road for convenient access to the city's arterial road network. The 16,000m² building will provide modern high bay storage facilities with a minimum 10.5m internal clearance, along with 7,000m² of external hardstanding.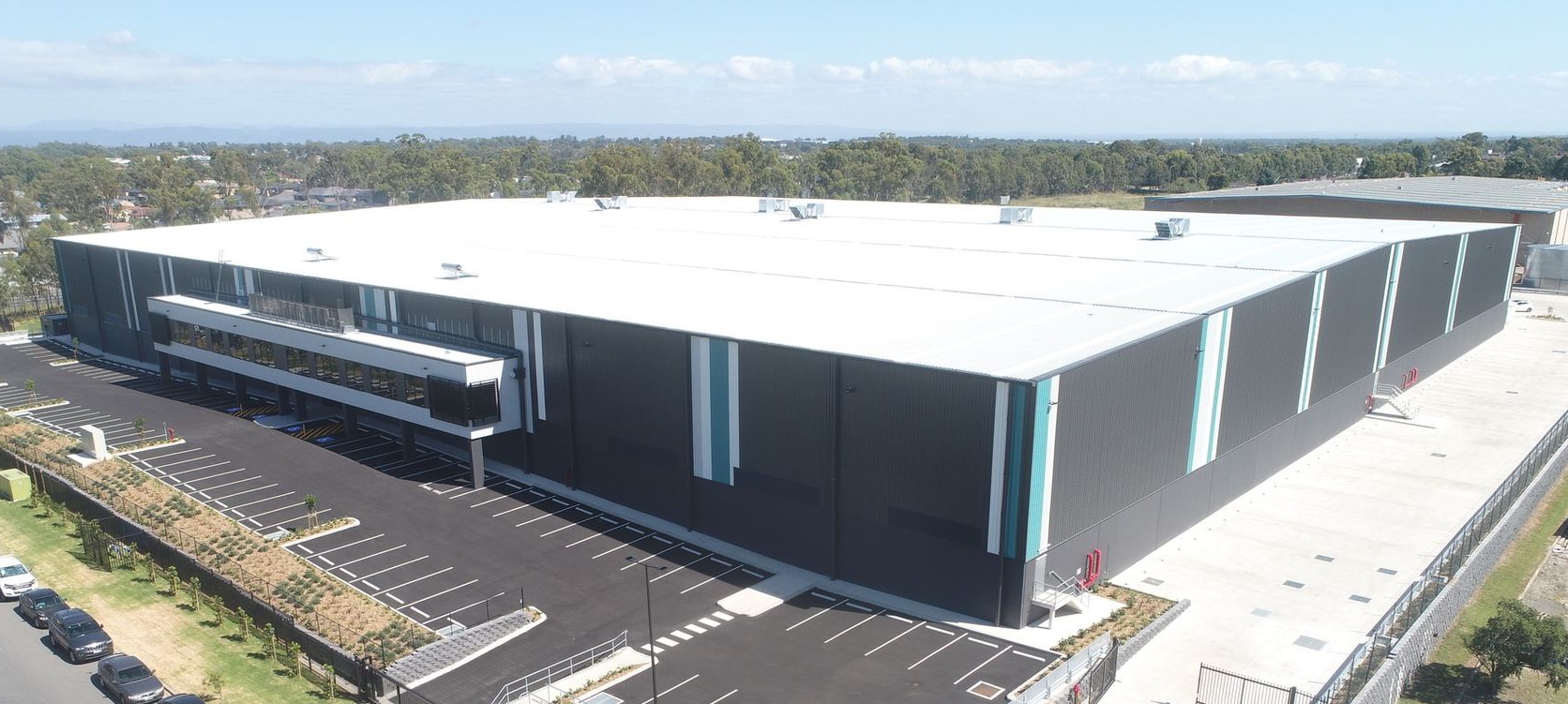 ---
The Challenge
The challenge for Costin Roe (Engineer), Face Consultants (Flooring Consultants), and Head Contractor, Prime Constructions, was to provide cost-effective slab edge protection that would allow for load to be transferred between the slab sections, as well as bespoke jointing solutions for the external hardstand areas.
The Solution
Specialist concrete contractor, Conzpec, installed 1266 linear metres of Isedio ArmourJoint together with hybrid Connolly Construction Joint and Expansion Joint solutions, utilising the bespoke manufacturing abilities of the Isedio brand, together with Connolly Square Dowels and Sleeves, and rebate moulds to suit.
Prime preferred the solution offered by Leviat, as it included the popular Isedio ArmourJoint solution with adjustable divider plate which, due to its simple and effective design, made closing off the joint to the sub-base easy. Coupled with Leviat's ability to combine the expertise of two well-known brands to provide a bespoke joint solution that was quick and easy to install, this made for a seamless supply solution for the head contractor.